Experimenting with food
I like cooking. I like eating. I like experimenting.
As part of my interest to experiment with materials and processes, I thought about making a session with food. I commented the idea to Martina Pagura – italian, cooks amazingly and loves food too. She had in mind to experiment with food also, so we set a day in our calendar, and we did it.
We agreed on cooking small different things, just to taste, combining ingredients that are not usually connected in our gastronomic culture, or using processes that are not usual for these ingredients. We tried also to combine different textures and temperatures. Taking a look at the outcome, it seems we had a preference to give more importance to fruits, cooking them with vegetables for example.
We started the journey going to the supermarket and a vegetable shop. We spent around one hour, selecting ingredients and creating crazy combinations while picking them.
So that's what we bought:
Having all the ingredients on the table, we elaborated a list of combinations we wanted to try.
To start, we made tea and coffee to freeze it, in case we feel like using with someting. We also put some sparkling water on the freezer.
Once frozen, the sparkling water was separated in water and gas, so it could be nice to use it with some container that could be eaten, creating a nice little explosion on your mouth.
We used the tea ice cube for the white wine. It kept it cold, and provided an evolving taste, as more tea was melted into the wine.
As a starter, Martina prepared ham rolls with ricotta, soy bean sprouts and curcuma.
We were not totally convinced about the bitterness of the raw soy sprouts combined with the other ingredients, but it was an interesting combination. The crispy sprouts added a nice texture to the smoothness of the ricotta and the elasticity of the ham. A good start for our menu!
Then I prepared a melon with cream and rigatino, a spiced bacon Elena brought me from Arezzo (Italy). I made melon balls with a spoon and whipped the cream until it had a good consistency. I fried the rigatino with really hot oil and dried it using kitchen roll.
Wow, not bad. The crispy and tasty rigatino dancing with the sweet melon, and the cream as a referee bringing them together. The fried rigatino, eaten alone, has a strong flavor, that is toned down because the cream, that absorbs the salty taste. For that dish, we opened a nice Italian wine Martina brought.
Next! Martina cooked a very interesting pasta (of course, pasta had to be in our menu!). Brown pasta, grapes, pecorino, pine nuts, yogurt and pepper. And to the oven.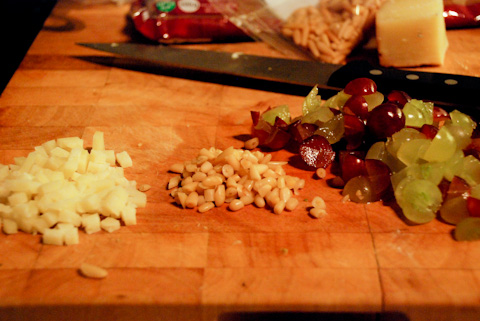 Really interesting. We looked each other without knowing what to say, how to define it. After some trials, we decided to define it as "complex". And maybe too much – ingredients, tastes, textures, even sizes and shapes. It's not a matter that it wasn't good enough (I thing it really was), but we are not use to that complexity. We could detect all the ingredients, but the mouth had a hard work to understand what was happening with them.
The small pine nuts were asking for attention – each time you found one, it killed the other ingredients' taste for a while. The grapes, a bit cooked, brought the sweet side of the dish, while the cheese added some salty taste. But it wasn't a smooth transition, it was a dish of independent and revolutionary flavors. Probably the most interesting dish we made this night from a taste challenge point of view.
Then we went for small bundles of puff pastry, filled with different stuff.
Martina cooked aubergines with pear, in which she put different spices on it – curry, curcuma or turmeric. Pear and aubergine combined perfectly, it was difficult to distinguish between them since they got the same texture and exchanged their juice. We made a couple without any spice and they were really good. The spices added an exotic touch.
I boiled leaks for 5 minutes, and then I added orange juice, with a higher temperature so it fried a little bit. Then I added a bit of cinnamon. And it tasted super good! Leaks are amazing, they get on well with everything, it's an easy vegetable. Cinnamon and orange tend to go well also, but never tried with vegetables. This one tasted really simple, just a pleasure.
We also made avocados with ricotta and a bit of paprika powder. That one was simple too, but a bit less surprising.
The small portions allowed us to try different things, or variations of the same recipe. We enjoyed a lot our last dish!
And for dessert, I made something I used to do but Martina didn't taste and has a strange combination also: strawberries with sugar (ok until here) and a bit of vinegar. The vinegar soaks the strawberries that release part of the juice, that dissolves the sugar. And tastes amazing!
After more than 4 hours cooking, we only used a few ingredients from what we bought, and we left many combinations for the next session – I hope it comes soon. It was really interesting to challenge the senses with new combinations, and try to identify why they were good or not.
There is more and more interest about creating experiences with food, combining different ingredients and transform them with unusal processes. Science is also taking an important role on diet, both on the artistic/experiential and the everyday meal/health side. A couple of references about that:
Ferran Adrià (pioneer of molecular cookery) and his restaurant El Bulli, which closes 6 months a year to dedicate time for experimenting on his lab in Barcelona, el BulliTaller.
Fundació Alicia (from the words Alimentació + Ciencia in Catalan) is a foundation which aims to investigate diet processes, health and gastronomy from a social point of view, with scientific methods. I saw some of their methods and machinery they use at the exhibition center Arts Santa Monica in Barcelona. It's difficult to distinguish their lab from a chemical lab, but the things they create are amazing experiences for the senses!
Be wild, also while cooking. We know how spaghetti al pesto or yogurt with muesli taste. But how do they taste together?
Bon áppetit!
(more pictures here)
Tags: experience, experiment, food, lab